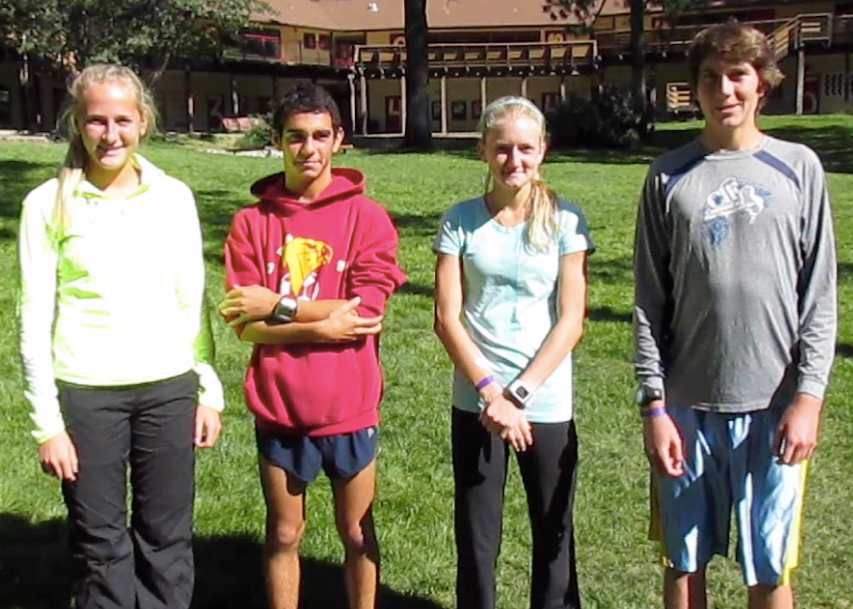 Some of California's top runners - Emma Abrahamson (La Costa Canyon), Tal Braude (Torrey Pines), 3 Time State Champion Sarah Baxter (Simi Valley), Steven Fahy (La Costa Canyon)
Athlete and Parent Testimonials:
Thanks again for all the great memories over the years at camp. The runner's workshop experience has truly impacted my personal progression as a runner and played a pivotal role in bringing our boys team together these past two years.  Anyways, here is my goal poster for this year.  I just wanted to share with you what I have taken away from camp this year Thanks again for everything, -Steven Fahy - La Costa Canyon HS / Stanford University

My son was at your Tahoe Camp this summer. He is a completely different runner physically and mentally. He's already crushed his times from last year. Well worth the money. Tahoe 2016 Parent
We sent Connor off to camp not knowing anything about RW (we found the camp on the Internet). What a fabulous experience for our 14 yr old!  Connor immediately got in the car after camp and gave us every last detail. He even got out his notes and reviewed all his new 'runners knowledge.In fact he immediately posted his goals on his bathroom mirror when he got home.  Connor is a multiple-sport athlete(traveled to nationals this summer for volleyball) but after RW camp he has definitely chosen to focus in on running. He said the only thing that could have made the camp better was to make it longer. He never wanted it to end. He is SO looking forward to recruiting his Clovis High teammates and coming up next year(he has one more season in middle school). Thanks again f

or providing this experience for young runners!
THANK YOU Mark and everyone in the camp for organizing such a high quality camp- Diane LOVED every minute of it!  

All the best,
My daughter, Gianna came back from the Tahoe camp so incredibly enthused and ready for a new running season in both cross country and track. She has inundated me with all of the information that she learned over the course of the week, and I'm loving it. She declared that she wants to return to your camp every summer. Thank you so much for having such a well-rounded camp; between the workouts and all the clinics, Gianna is ready to reach the next level. I also appreciate the running ability of all of your counselors--Gianna was thoroughly impressed. Overall, I'm really glad that I sent Gianna and would definitely recommend the camp to anyone seeking a place to step up their game. Sincerely, -LoRayne

I just wanted to say thanks for such a great camp! I had a much better experience here than at the Stanford cross country camp. I've stapled my goals into my wall at home, and I'm going to tape them to my steering wheel! Thanks again for some great memories and new reasons to get excited for this season! -Andrew

Raven had an amazing time.  She was injured and didn't get to run, but she got so much more from the experience....KNOWLEDGE.   This morning she made us some yummy Oatmeal (the recipe that she got while watching the Camp Chef), she gave us a slide show of the camp, she went over  ALL 18 pages of her handwritten notes, handouts, and explained to the family why it was important to create a goal step pyramids and to carry our laminated goals around in our pocket everyday.  Her pyramid will be on her wall before the night is over.  No information/knowledge was wasted on Raven.
It sounds like the camp was wonderful for all the teens.   Raven hopes to return next year and be in her best running shape next summer.  She meets with her doctor about her knee next  week.  Thanks a bunch!!!!
-Darlene
I'm very glad my son Joseph went to your Runner's Workshop at Echo Lake camp this summer.  He learned so much about mechanics, state of mind, nutrition, and goal-setting.  He is inspired not only in his running but also his upcoming academic year... even as far as applying for work and sending the appropriate thank you/contact notes. He had a very good time! Thanks for providing an excellent opportunity. -Charlotte 
Rylee got home a couple of hours ago and she is grinning ear to ear.  Thank you so much for putting on this incredible camp that is both informative and FUN!!!  She is definitely coming back again next year.  
Thank you again!!!
-Nika
My name is Rebekah from La Costa Canyon and I attended camp this last week. I just wanted to thank you personally for the tremendous experience I had at camp this week. I know this camp was large and you weren't able to know every camper, but the words you and your staff spoke certainly effected all 200+ kids. I looked for you after breakfast but unfortunately could not find you. After a hard, long summer of training I was starting to lose motivation and this camp fired me up more than I was to make my senior cross country season incredibly. The insight I gained from the college coaches was invaluable. I also really loved the poem you shared at the camp fire today and have already placed it on my wall along with my goals and steps to achieve them this season. I plan to apply to be a CIT next year so hopefully I can keep in touch. Thank you for your incredible dedication to this sport and for one of the best weeks of my life. -Rebekah

I just wanted to say one more thank you for a great final camp as a camper. I've enjoyed the camp very much each of the four years I've gone, and I think this year especially will help our team reach our goals for the season. Anything we accomplish this year is partly due to the knowledge and appreciation for our sport we gained at Runner's Workshop. Thank you a wonderful camp.
Hi Mark. My name is Zach and I recently attended the camp. It was one of the greatest weeks of my life and I will carry it with me through my season to help improve my self as an athlete and person. On the last morning you gave us a brief but memorable clinic regarding goal setting. I thought I should inform you that I completed a chart and have put it on a cork board in my room. I would like to thank you for giving me this idea and I would like to let you know that these goals will help to fuel my season. Thank you,
-Zach 
Rylee got home a couple of hours ago and she is grinning ear to ear.  Thank you so much for putting on this incredible camp that is both informative and FUN!!!  She is definitely coming back again next year.  J Thank you again!!! -Nika

Just wanted to drop a note to thank u so much for being patient with our team signing up late, and also our late payment. You were also so understanding about another situation, which I want to say thank u for listening. I know today times are hard for many, so affording to go to camp was our first priority for our girls this summer over school clothes or vacations. That's how much your camp means to them. Thanks for your patience and great program you provide for the kids. My daughter is a bit bummed thinking this might be her last year there, but they have one younger sister that will also be joining next year. Thank u to u and all ur staff. -Sherri 

I just want to let you know what a great camp you have.  My son (Patrick) has attended for the last 4 years and he enjoyed it more each year.  Thank you again. -Megan
This is Annie. I attended camp last summer at Tahoe.I just wanted to let you know that I got 8th at NCS, and recently 12th at state in Division III with a time of 18:20. I would like to thank you very much for holding such an incredible camp, as it certainly helped me attain my goal time of 18:20. Right after camp, I placed  multiple notecards with my goal time (18:20) and place (top 20) all over my room so that I would see them each day, following the suggestion I learned at camp (I also told my coaches, friends, and family about the goal, although my coach thought it was a bit high of a goal). I guess it was a combination of hard work and seeing that time each day that I did reach my goal, and I would like to thank Runner's Workshop for helping me achieve it. Thank you!! -Annie

Thank you for everything you have done for Connor. This camp has been instrumental in developing his love for running-truly a turning point for him. -Janet
I just wanted to thank you so much for giving me the opportunity to attend the Runner's Workshop camp; for me, camp has been the best thing this summer, and I truly miss being there already. I also wanted to tell you how much I appreciated your caring for me; I will never forget the time when you gave me that sleeping bag to borrow when I forgot mine at home the time when you gave me that sleeping bag to borrow when I forgot mine at home ("bonehead" worthy). I also wanted to tell you how unforgettable the camp experience was this year. One of the things I liked most at camp was how enthusiastic, energized, and caring everyone was about cross country and running in general. It was amazing to spend a week with so many amazing coaches and athletes. Again, thank you so much for everything you have done. I hope to see you again next year! -Andrew

Hey Mark this is Kenya and I want to thank you for giving me the chance to go camp this year I had a life changing experience I got to meet tons of people who loved running just as much as I did and I also learned how to improve from heel striking. I Can't wait to see what this year has in store for me. I'll keep u posted on how my season is going and just a heads up I'm applying for CIT so hoppefully ill see u next year.
Stephanie loved your camp up here in Tahoe.  She is running Varsity as a Freshman and doing well.  She placed 16th at the Stanford Invitational and 6th  at the Frogtown Invitational.  Thanks again, -Suz
Mark - First and foremost, the camp you run is amazing. Before I went up to Tahoe, I was super scared that everyone would be so much faster than me and that I would be struggling the entire week to keep up. But thankfully, I was wrong. You did a  great job organizing the runs so that everyone felt comfortable. In addition, there was such a positive atmosphere at camp that I know really pushed me get to better. Another thing that I really appreciated was your staff. It was obvious that every counselor genuinely wanted to help the campers and of course, they were all super nice. I don't think you could have hired a better group of people.
I had such a great time up at echo lake and I cant thank you enough for the wonderful experience that I had. I'm mad that I didn't come up to camp when I was younger. The environment that you create at camp is one that promotes improvement as a runner and spreads an infectious (in a good way of course) passion for running. I'm telling my whole team that they have to go next year, or they will regret not going more than once, like I am.
My son, Robin, just got home from an amazing week at your camp. Thank you for all the incredible experiences you provided, the clinics, the runs, the staff... we have been hearing wonderful things about the week. We appreciate your thoughtfulness in providing such a great experience. -Stacy
Thank you for helping me become a better runner! Here is my goal pyramid! I put it on the ceiling of my room so it the first and last thing i see everyday! Cant wait until camp next year! I learned so much and met so many amazing people! -Savannah

Thank you, we just saw Coach V today and he was happy to hear Jeff's enthusiasm about camp.  I'm sure he'll be attending again next year. He's given up soda and has been great about the training, your camp inspired him! 

Thanks again,
I had such an amazing time at camp this week and I wanted to thank you for working so hard to put everything together.  I am very sad that I will not be able to attend camp next year as I am now a senior, but I think that I might apply for the position of CIT when the time comes. As you requested here is a photo of my goal sheet.  I made it 

pocket-sized so I can keep it in my running bag. Thank you for everything you do; I know that your camps are really making us young runners better!
Thank you for putting on this camp!  Miranda had a wonderful time and came back with soo much knowledge and confidence! 
Thanks again for a wonderful camp!
Thank you so much for all you did for the kids last week.  Em said she was definitely on the younger end but LOVED the work outs, runs, and class.  Staff too. Thanks again! -Kym
Thank you for allowing Kelsea and Anthony to attend camp. They were full of great stories during the drive home. They both had a great time and are looking forward to the upcoming season. Since arriving home they've completed their workouts as suggested at camp. Thanks again for everything. Sincerely, -Tony
Walker had a great time. He has already set some goals and started applying many of the things he learned at camp. I have no doubt that he will not only be a better runner, he will have more fun competing because of you program. All the best... -Kevin
I just wanted to let you know I had a blast at lake tahoe. I was very sad it was my last year going to runners workshop but hopefully I'll be able to cit next year. I love these runners workshop camps so much. I learn so many new things at these camps it's crazy, there's just so much information given to us it's amazing!! I can't believe there's so much to learn about running! When I won the LA84 binder last year I was so excited to be able to have a whole binder full of info about the sport I love and pass the info on to my coach and team! The binder has gotten a lot of use over the year.But, lake tahoe was a great camp and I really enjoied it and I really appreciate all the hardwork and thought you put into it to make us all happy! Thanks again for making a great camp week an hopefully I'll be keeping in touch with you and maybe be a cit!!  Thanks, -Zoe
Just a note to say thank you very much for having such and amazing camp.  Our kids from Calabasas  High had a fabulous time and said they learned a ton.  Said that the info was amazing and they are all running better.Thank you again,
Thank you so much Kelc! That's really going to help me this season! Please tell Kauren, Alec, Tommy, and Clayton  I say hi! (I'm really happy that they remembered me!!!) I really miss camp and all of the counselors! You probably  don't realize how much you and the rest of the counselors have helped me become a better runner and also, a positive person. I really do look upto you all 🙂 I'm super excited and pumped for camp next summer and can't wait to meet you all again!!! I'll try to keep you posted on my improvements this season all due to your help 🙂 thanks once again to you and all the counselors! Hope you all have a fantastic week at camp!  Love ya, -Gigi
I was shocked to find out i missed camp when i got home, after complaining the first two days about literally everything. I finally let go and had so much fun there. The staff was kind friendly and helpful. I talked breifly with coach helen about not liking running. She said," you don't have to like what your doing, but if your doing it, do it to the best of your ability." i took that to heart and i actually am having a blast with practices and im working harder. The letter Mo read also helped with some motivation. I learned alot in the clinics and cabin talk even if i was bored. I met Some new faces and even sang in front of everyone. Your camp helped with alot of things and i appreciate that you run all these camps and i will defiantly come back. I cant wait to let you know how my season goes, and im sure Cardinal Newman will run into you at huntington beach. Thanks a bunch, -Harold
I just wanted to say "thank you" for putting together such a great camp. I fully appreciate every detail that went into planning that camp as I am the assistant coach for Valencia High school. Maddie had an amazing time.  When we first dropped her off, she seemed sad to be there without a team but I knew this was something she needed. She has a passion for running and the other girls on our team have yet to develop that, so this was very encouraging to her. As we headed home today, although exhausted, she pretty much talked (for 7 hours)  about how much she learned, how great the staff was and how she went to every clinic, even the advanced ones. Thank you for helping her find her inner runner again. I feel extremely blessed that she won Seaside and was able to attend Lake Tahoe camp as her reward.  (the gift that keeps on giving). Thank you again, Stay Fit, -Gwen P.S.  She was super excited about winning the LA84 award.
OK, I am NOT going to start getting all sniffly.  Yale and I are just beyond thrilled that she's got a home at the camp/s and she now anticipates continuing as a CIT and counselor.
I cannot thank you enough for allowing me to be a camper this year. The experience was unforgettable and I will take so much knowledge back to my team. Also I feel more apart of the running community I met great counselors, friends, and bonded with my teammates. I can't wait to apply on January 1st and not a day late. I just wanted to thank you for a great camp experience and memories that will last forever. Thanks, -Divya 
I wanted to thank you for making Micahels first runners camp experience a great one.  He had a blast.  

thanks again.....  see you next summer.
-

Danielle
Once again Harold was delighted with runners camp.  He came away once more inspired and more physically fit. He already has asked if he can attend both camps in 2013 as he wants to apply to be a CIT after he graduates.
-Adrienne
Connor loves RW.  In fact, my husband wanted to send him to other college camps just to get exposure but Connor kept reiterating how beneficial RW has been for his growth as a runner.  Thank you for inspiring him! -Janet